Oregon Coast Lighthouses
Information about the Oregon Coast Lighthouses
---
There are eleven lighthouses on the Oregon Coast and nine of them are on the National Register of Historic Places.

The Oregon Coast Visitors Guide recommends the lighthouses highly. They have a lot of history attached to them, and every single one is unique and special in its own way.

The stories about how they were built, what they became after they were decommissioned, what life was like for the light keepers, and so many more interesting topics associated with the Oregon Coast lighthouses, make them very fascinating.

The lighthouses have incredible views of the ocean and surrounding coast for obvious reasons. Many of them are also located next to some of Oregon's premier wildlife viewing areas. Visit some of these lighthouses and get up-close looks at birds nesting, whales out in the ocean, and some of Oregon's most beautiful scenery.

Explore the lighthouses on these pages and then go visit them all. It will be a great experience.


---



Oregon Coast Lighthouses App
Use this interactive app to learn where the nine Oregon Coast Lighthouses are located on a map and click on any annotation on the map to learn more about that particular lighthouse. (iPad and iPhone IOS App)


---
---
Lighthouses and Life-Saving on the Oregon Coast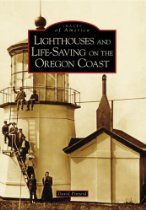 The Oregon Coast has been the site of shipwrecks even before Lewis and Clark's arrival in 1805. Even as the population grew, the federal government let the Oregon Coast go unguarded by lighthouses and lifesavers for decades. Economic and political pressures finally forced the government to build the first Oregon lighthouse in 1857 at the Umpqua River.

The LifeSaving Service followed in 1878 with a station at the mouth of Coos Bay. Eventually, most of the harbor entrances and headlands were protected by both the Lighthouse Service and the LifeSaving Service, the precursor to today's Coast Guard. Lighthouses and Lifesaving on the Oregon Coast commemorates the true heroes who served to warn, protect, and rescue those who went to sea.





Custom Search

Why are lighthouses so tall?
Lighthouses must be tall in order for the light to be seen around the curvature of the Earth. If the Earth were flat, rather than round, then lighthouses could be shorter.

Lighthouses open to public
The are seven lighthouses along the Oregon Coast that are open to the public. They are Cape Blanco (Port Orford), Cape Meares (Tillamook), Coquille River (Bandon), Heceta Head (Florence), Umpqua River (Reedsport), Yaquina Bay, and Yaquina Head (Newport).

Oregon Coast Shipwrecks
The lighthouses did not succeed in saving all ships along the coast.
Check out Oregon Coast Shipwrecks