Yaquina Bay Lighthouse
---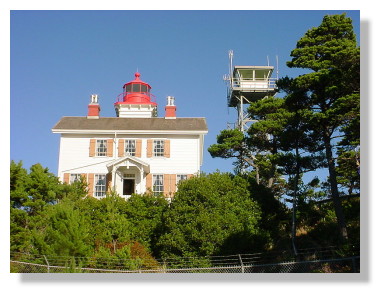 The Yaquina Bay Lighthouse is located on US 101 at the north end of Yaquina Bay in Newport, Oregon. It sits at 161 feet above sea level.
The Yaquina Bay Lighthouse was built in 1871 and was only operational for three years, as the
Yaquina Head Lighthouse
made it obsolete in 1874.
The Yaquina Bay Lighthouse is the only existing lighthouse in Oregon in which the living quarters are housed in the same building as the light itself.
It was listed by the National Register of Historic Places in 1970 and is owned by the Oregon Parks and Recreation Department.
The lighthouse in open to the public year round. To get current visitors information, please call (541) 265-5679. Entrance is free by suggested donation for self-guided tours. Hours are 11am - 4pm in summer, noon-4pm in off-season.
Below is text from the Yaquina Bay Sign on US 101:
The old Yaquina Bay Lighthouse established in 1871 is the earliest aid to navigation standing within the range of the first recorded landfall made from a ship to the shores of the Pacific Northwest. Captain James Cook made this landfall on March 7, 1778. At noon he named Cape Foulweather.
On account of the heavy weather he was compelled to stand out at sea at night and only approach the land in the afternoon so that he was unable to find any harbor along the Oregon Coast.
News of Cook's voyage to the Pacific Northwest stimulated the American interests in this region and aroused in Thomas Jefferson an interest that led to the Louisiana Purchase in 1803 and the dispatch of the Lewis and Clark Expedition.
---
Copyright | Privacy Policy | Disclaimer | Contact