Oregon Coast Shipwrecks
---
Numerous ships have sunk on the Oregon coast unforgiving waters throughout history. Many ships are never seen again, some wash up to shore years later, and yet others are salvaged. A good start to see Oregon Coast Shipwrecks would be to visit the
Columbia River Maritime Museum
in
Astoria
.
To see a shipwreck in its 'natural environment', travel to Coos Bay to see New Carissa or Warrenton to see The Peter Iredale. For a brochure of Oregon Coast Shipwrecks, enjoy:
Graveyard of the Pacific
.
Although not technically a shipwreck, our favorite Oregon Coast shipwreck is the
Mary D. Hume Shipwreck
in Gold Beach, Oregon.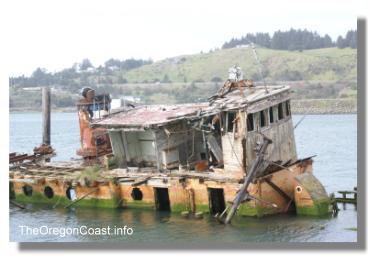 If you go to Port Orford, check out the remains of
Cottonneva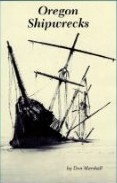 From pathos to humor Marshall chronicles numerous untold stories of Oregon's seafaring days. Over two hundred years of ship disasters, cargo, passenger, steam and sail wrecked along the rugged Northwest coast. Stern and side wheelers left their bones in Oregon's mighty rivers in company with earlier fur traders, scows, and bateaux's. Read of the world's oldest continuous shipping line, the Spanish trade route from Manila. Does one of those rich galleons lie off shore of Manzanita Beach? He gives and in-depth study, stripping legend from fact in the greatest mystery of all, Oregon's famous "Beeswax ship." Ride the waves on steamers, schooners and square riggers, feel the gut-ripping horror of passengers, crewmen and captains when they realize their ship is going on the rocks. A hundred thrilling photographs and numerous locations of wrecks add spice to this important publication.
If you want to become an expert on Oregon Coast shipwrecks, we recommend the books below.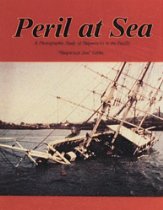 Around the shores of the Pacific Ocean, along the western coastline of California, Oregon, Washington, British Columbia and Alaska, lie the remains of legions of vessels of every description and every flag. Some lie buried in the depths, never to be found. Others lie as twisted remains along the beaches or entombed down in the sands. Still others have been completely eradicated by the forces of nature. A few carried treasure; some have been recovered but most never will be. Though the greatest treasure has been discovered along the Caribbean and eastern seaboards, most of it was originally lost there while much of the Pacific lay undiscovered. The Pacific rim may yet yield finds of fabulous value. These ideas and many others are explored in Jim Gibbs' most recent book, Peril at Sea. This is a fascinating work on peril at sea and the continuing battle of man against the elements. Each chapter is an accurate chronicle by location of the ships and their sailors who met fateful ends along the Pacific Coastline.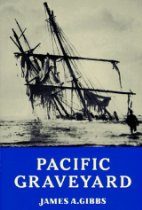 Man's age-old struggle with the sea comes historically alive in these true stories of shipwrecks off the Oregon and Washington coasts -- all near the mouth of the Columbia River. Dramatic photos of disaster and rescue at sea are placed with the stories they illustrate. Narrative appendix lists all wrecks; pictorial map gives locations.
---
Copyright | Privacy Policy | Disclaimer | Contact