Cape Blanco Lighthouse
---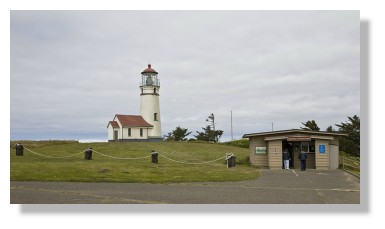 The Cape Blanco Lighthouse is located on the westernmost point in Oregon, 9 miles north of Port Orford off U.S. 101.
The lighthouse was built in 1870 and is the oldest lighthouse still standing on the Oregon coast. It is located 245 feet above the ocean with a conical tower rising 59 feet.
The Cape Blanco Lighthouse stands above a highly-rated wildlife viewing area.
Visitor services and tours are cooperatively managed by BLM, OPRD, local Native American Tribes and the Friends of Cape Blanco.
For more information, call 541-756-0100 or 541-332-6774. Open April-October, 10 a.m. to 3 p.m.
---
Copyright | Privacy Policy | Disclaimer | Contact