Welcome to the Oregon Coast
---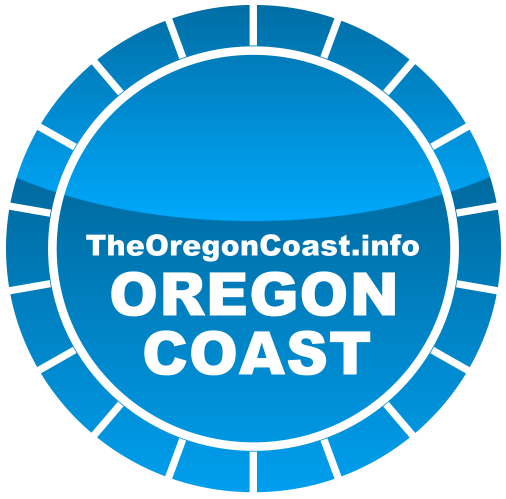 The Oregon Coast Visitor's Guide welcomes you to the Oregon Coast.
The Oregon Coast is Oregon's number one tourist destination. People come from all over to enjoy the scenic beauty, historical sites and wide variety of recreation opportunities.
The once thriving logging and fishing industries are slowly being replaced by increasing retirement and tourism. People are drawn by the moderate temperature, sandy beaches, numerous attractions and more than 80 state parks and recreation areas.
There's a little something for everyone along the beautiful Oregon Coast.
Easy Access to the Oregon Coast
Getting places on the Oregon Coast is easy. Highway 101 stretches the entire coast, 363 miles long from Washington to California, passing through quaint tourist towns like Cannon Beach, large cities like Coos Bay and small communities like Manzanita.
Public Beach Access to ALL beaches
The public has access to all beaches along the Oregon Coast, thanks to the
1967 Oregon Beach Bill
, which removed the property tax obligation on landowners in return for free beach access for the public. So feel free to stop and sink your toes in the sand anywhere along the route. You can even drive right out onto the beach in some areas. Four wheel drive recommended!
---
Things to do on the Oregon Coast
Recreation - All kinds of activities: hiking, camping, sport fishing, cycling, kite flying, scuba diving, surfing, sand-boarding, boating, and areas reserved for all-terrain vehicles.
Fly a Kite
Some argue that the Oregon Coast is the best place in North America to fly kites.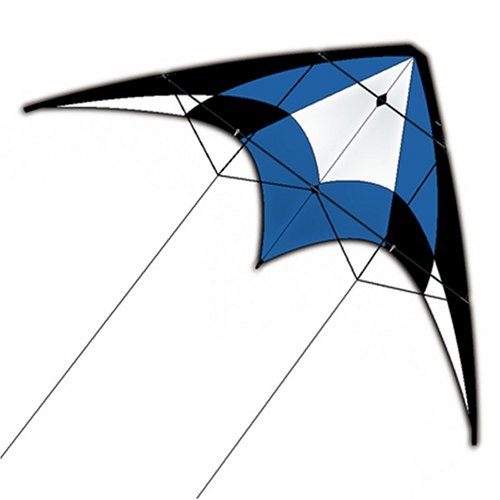 Sand Boarding
Sandboarding is the new fun and inexpensive sport on the Oregon Coast.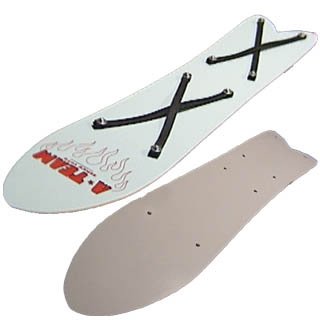 ---
Oregon Coast Tourist Attractions
There are so many nature and scenic places on the coast, so you may not have time to visit man-made tourist attractions. If you do find the time, three great attractions to try would be (1) West Coast Game Park where you can pet wild animals, (2)
Oregon Coast Aquarium
in Newport, and (3) Prehistoric Gardens in the Oregon's Rain forest.
West Coast Game Park Safari
America's largest wild animal petting park in located on the Oregon Coast.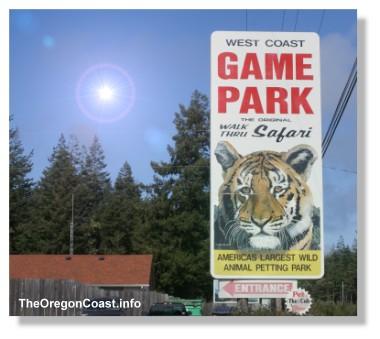 Prehistoric Gardens
Interesting tourist attractions displays life-size replicas of dinosaurs and other prehistoric animals.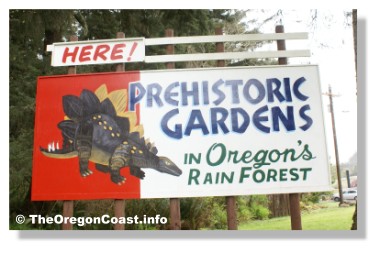 ---
Things to see on the Oregon Coast
Are you looking for things to see on the Oregon Coast? The best thing to see on the Oregon coast is of course nature and the coast itself, but you may also enjoy human made things suchs as shipwrecks and lighthouses.
Oregon Coast Lighthouses
Explore the lighthouses on these pages and then go visit them all. It will be a great experience.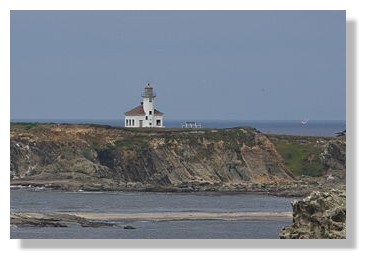 Oregon Coast Shipwrecks
Numerous ships have sunk on the Oregon coast unforgiving waters throughout history. Go check them out!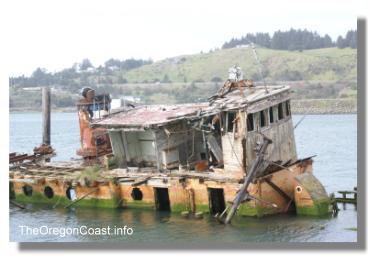 ---
You get the idea! There is a little something for everyone on the Oregon Coast. Use The Oregon Coast Visitors guide to find your way around the Oregon Coast. We have extensive links to interactive maps, directions, attractions, places to stay and eat, and where to shop. Enjoy your visit to The Oregon Coast Visitors Guide, and then enjoy your journey to our beautiful coast....
Oregon Coast Cities
List of cities on the Oregon Coast. Visit them all or start with two of our favorite cities listed below.
Pacific City
It just doesn't get any better than this.....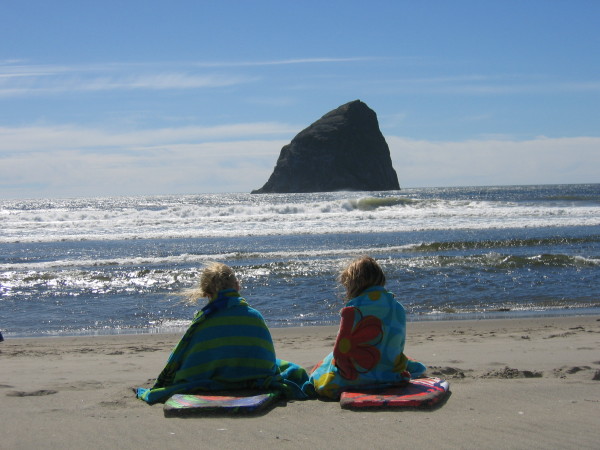 Rockaway Beach
7 Miles of Sandy Surf On the Magnificent Oregon Coast.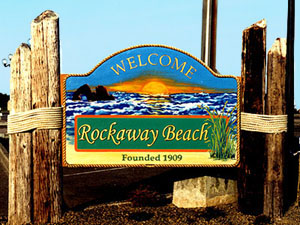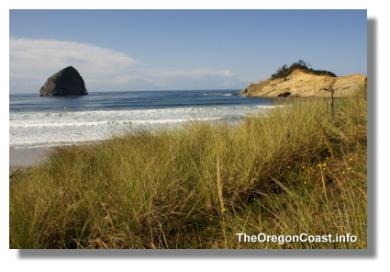 Oregon Coast Webcams
Enjoy these webcams along the Oregon coast to get a picture of what the Oregon coast looks like. We even have a map so you can see where the camera is located.

The Oregon Coast Weather is relatively mild. It does not get extremely cold in the winter and it does not get extremely hot in the summer. Basically in ranges from the 50s to the 70s throughout the year.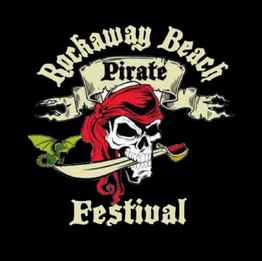 Oregon Coast Events
List of festivals and events on the Oregon Coast. Plan your vacation accordingly!
Oregon Coast Whale Watching
The Gray Whale migrates between December and May. You might also see Orcas and Humpback Whales. You can go out on a boat or watch from the many lighthouses along the Oregon Coast.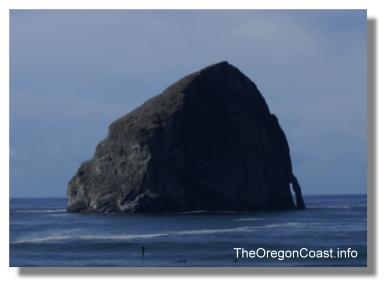 Haystack Rock
There are two monoliths called Haystack Rock on the Oregon Coast. Do you know where they are?
Oregon Coast History
Exploring the Past - History buffs will enjoy historical sites like Fort Clatsop, site of the Lewis and Clark Expeditions Winter stay; Fort Stevens, military blimp hangar; Patrick Hughes' house; numerous light houses; and Battle Rock.
Watching wildlife
There are six wildlife refuges, covering 371 acres. These provide a large habitat for abundant plants and animals such as sea lions, birds, sea otter, the Roosevelt Elk, Black-tailed Deer, spotted owl, and harbor seals. If that is not enough, we also have the Pacific Ocean at our doorstep where you can see the famous gray whales migrate.
Oregon Coast Videos
Don't know where to start your Oregon Coast journey? Maybe watch some Oregon coast movies to give you ideas? The Oregon Coast Visitors Guide updates its video library regulary. Check out some
Oregon Coast Videos
---
Copyright | Privacy Policy | Disclaimer | Contact