West Coast Game Park Safari
---
America's largest wild animal petting park is located in Bandon, just south of Coos Bay on the Oregon Coast's Highway 101.
This is not your regular zoo! How often have you gone to your local zoo, just to find an apparently empty animal cage, because the tiger is sleeping inside, or if you peek through a tree or around some obstacle you might glimpse the bear's back? What a waste of money!
Well, that is not the case with West Coast Game Park. Here many animals like goats, sheep, birds, llamas (be careful, they spit!), donkeys and so on roam free around the park for you to pet and feed. The more dangerous animals like lions, tigers, and bears are in cages, but they are close and very viewable. They even have buffalo and camels! We especially liked the camera holes in the fences allowing us to take clear pictures of the animals.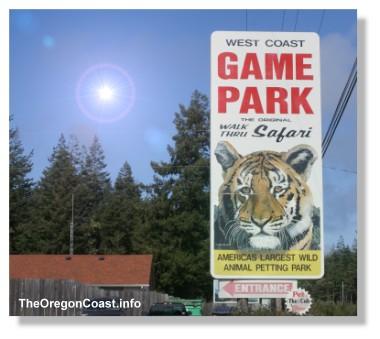 Park attendants announce special opportunities for supervised petting and filming of newly born animals, like leopard and bear cubs, skunks, ferrets or whatever has been born recently. You can actually hold a leopard cub on your lap! Amazing! Call them to find out what is available for petting this week.

The park is open daily throughout the year, except January and February when it is only open on the weekends. H ours vary throughout the year, but a good bet would be to arrive around 10am and plan to exit before 4:30pm. For exact hours, call (541) 347-3106.

Admission is a little higher than the zoo, but we think you will find it is well worth the few extra dollars. It is $15 for 13 years and older, $14 for Seniors (60 and older), $8.75 for children 7-12, $5.50 for children 2-6, and FREE for children under 2. Prices are subject to change, so you may want to call 541-347-3106 for current pricing.


Recommendation:
The Oregon Coast Visitors Guide recommend the West Coast Game Park highly. You can visit the petting zoo at 46914 Highway 101 in Bandon, OR 97411 or call them (541) 347-3106
Go here for a
West Coast Game Park Video
---
Copyright | Privacy Policy | Disclaimer | Contact