Sandboarding on the Oregon Coast
---
Sandboarding is the latest and coolest sport on the Oregon Coast.
Sandboarding is very similar to snowboarding. The main difference, as you would expect, is that you board on sand instead of snow. Simply explained, you stand on wooden board and slide down a sand hill.
The sandboard sport is popular for many reasons. It's inexpensive. You just need a board and can go to one of the free open-access sand dunes along the Oregon Coast. There's no need to buy lift tickets, expensive snow gear, surf gear, etc. It is also not season dependent. As long the sand is dry, you can enjoy your sport. Furthermore, it is not as dangerous as other "board sports" as the sand is a nice cushion for your many falls, but do watch out for rocks and sticks in the sand. Sandboarding is a popular sport among snowboarders who cannot wait until winter to board.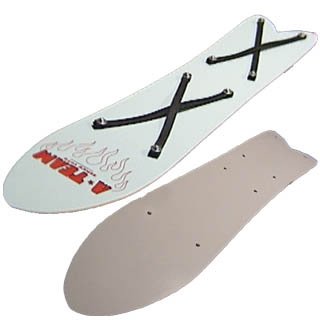 The Egyptians claim the Pharaohs were sliding down the sand dunes thousands of years ago, and countries from all continents claim to be the first to enjoy the sandboarding sport. However, Sandmaster Park right here in Florence on the Oregon Coast is the world's first sandboard park. Opened in 2000, Sand Master Park is a 40-acre sand dune park dedicated to the sport of sandboarding. Sand Master Park has portable jumps and kicker, rails, boxes and all kinds of options to make your sandboarding experience great.
Sandmaster Park is located at 87542 Hwy 101 Florence, OR 97439 and can be reached at (541) 997-6006.
PS. Are you thinking about buying a sandboard? Check out this
Sandboard for sale
---
Copyright | Privacy Policy | Disclaimer | Contact