Chetco Valley Historical Society Museum
---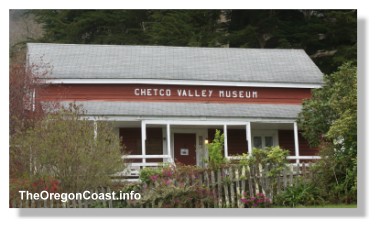 Chetco Valley Historical Society Museum is located in Brookings, Oregon on the southern Oregon Coast and is certainly worth a visit if you are interested in old historic things such as a trunk from 1706, a quilt from 1844, an Indian dugout canoe, spinning wheels, furnishing, washing boards and other interesting very old items.
In addition to historic things, the museum also has a great collection of photographs, writings, and information about the Oregon Coast historic logging and shipping industry.
The Chetco Valley Historical Society Museum itself is in fact of historic significance too. It used to be the Chetco Post Office back in the later part of the 1800s. The two story wooden building was built in 1857 by Postmaster Harrison G. Blake who lived in the building and used it as a post office.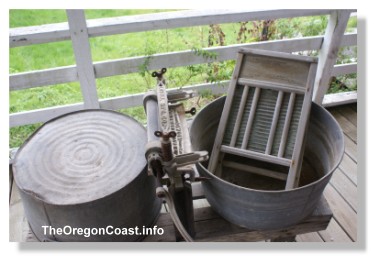 The Chetco Post Office was the first post office on the southern Oregon Coast. Interesting to note, Postmaster Harrison G. Blake became the first member of the Oregon House of Representatives from Southern Curry County in 1874. He also planted the Monterey Cypress tree next to the Chetco Post office, and the tree is still there. Learn more about Oregon's largest
Monterey Cypress
tree.
If you want to see the oldest standing building in Chetco Valley, the largest Monterey Cypress tree in Oregon, and many old artifacts, then go south on Highway 101 from Brookings, Oregon. It is easy to find as you can actually see the Chetco Valley Museum from 101 on your left as you drive south towards the Oregon/California border.

The address to the Chetco Valley Historical Society Museum is 15461 Museum Road, Brookings, Oregon 97415. You can call the museum at 541-469-6651. Although admission is free, a small donation upon entrance is appreciated. The Chetco Museum is only open Friday through Sunday from 1pm to 4pm from Memorial Day to Labor day. It is closed the rest of the year.


---
Copyright | Privacy Policy | Disclaimer | Contact