Seaside Aquarium on the Oregon Coast
---
Seaside Aquarium has been around since 1937 and is the oldest one on the Oregon coast. It features tons of underwater creatures and many seals. They are open at 9am every day and admission is $7.50 for adults and $3.75 for children 13 and under. Enjoy your visit.
Seaside Aquarium
200 North Promenade
Seaside, OR 97138
(503) 738-6211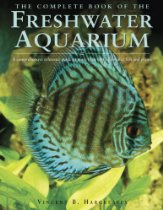 The Complete Book of the Freshwater Aquarium
The vivid colors and abundant life found under the water's surface is breathtaking. For years, people have struggled to recreate this magnificent environment in exotic home aquariums. Now with today's technology and scientific understanding, creating a thriving freshwater aquarium is easier than ever. In The Complete Book of the Freshwater Aquarium, hundreds of dramatic underwater photographs give you a fish-eye view of hundreds of colorful sea creatures while accessible scientific text explains all about the fragile ecosystem of the underwater life. This book also features a comprehensive guide to setting up your own aquarium, from selecting your equipment and creating the environment, to choosing your fish and invertebrates. Diving into this book is a pleasure, whether you're an advanced aquarist, or a novice just getting into the hobby.
---
Copyright | Privacy Policy | Disclaimer | Contact