The Octopus Tree on the Oregon Coast
---
The Octopus Tree, also known as The Council Tree is located a few hundred feet from Cape Meares Lighthouse on the Oregon Coast.
The Octopus Tree is a Sitka Spruce shaped like an upside down Octopus.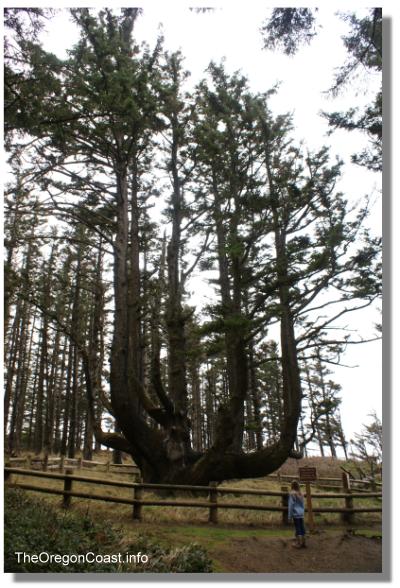 No one knows its actual age because that would require chopping down the tree to count the rings. However, The Octopus tree is believed to be hundreds of years old dating back to when the Indians lived in the area. In fact, there are rumors that the Octopus Tree was shaped like an octopus by the Indians to hold their canoes with their dead in it. So, the Octopus tree could have been an old burial site.
The Friends of Cape Meares Lighthouse and Wildlife Refuge donated a sign next to the Octopus Tree. The sign reads: The Forces that shaped this unique Sitka spruce (Picea sitchensis) have been debated for many years. Whether natural events or possible Native Americans were the cause remains a mystery.
The tree measures more than 46 feed in circumference and has no central trunk. Instead, limbs extend horizontally from the base as much as 16 feet before turning upward. It is 105 feet tall and is estimated to be 250 to 300 years old.

Where is the Octopus tree?
When you are visiting the Octopus Tree that is located within walking distance of Cape Meares Lighthouse, you may also walk south on the Refuge's Oregon Coast trail.

Located at the end of the trail, you will find a Sitka Spruce that is 144 feet, circumference of 48 feet and a crown that spreads 93 feet. It is believed to be the largest Sitka Spruce in Oregon and certainly worth the walk to see.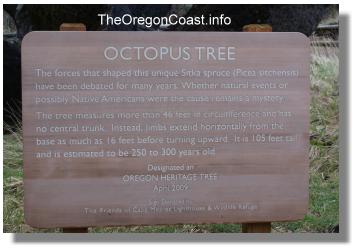 The above sign was put up recently. It replaced an older sign with different text. The previous Octopus Tree sign read:
Sitka Spruce
This giant old Sitka Spruce did not develop into a massive single trunked tree as most spruce trees do along the Oregon Coast. The candelabra branching and unusual size of the spruce tree were formed by strong coastal winds and the sheltered hollow of its location. Each of the six candelabra limbs are at least 12 feet around and extend horizontally from the main trunk as mush as 30 feet before turning upward. The base of the tree has circumference of about 50 feet.
---
Copyright | Privacy Policy | Disclaimer | Contact