Oregon Coast Microbreweries
---
Yes, You -can- get good beer on the Oregon Coast! Here are the seven best microbreweries that you can find on your journey along the Oregon Coast. We recommend that you visit all of them. They all have excellent beer and are located in great locations. Enjoy.
List of Oregon Coast Microbreweries:
Astoria Brewing Company
144 11th St
Astoria, Oregon 97103
503-325-6975
Fort George Brewery & Public House
1483 Duane St.
Astoria, Oregon 97103
503-325-7468
Bill's Tavern & Brewhouse
188 North Hemlock
Cannon Beach, Oregon 97110
503-436-2202
Lighthouse Brewpub
4157 N Hwy 101
Lincoln City, Oregon 97367
Pelican Pub & Brewery
33180 Cape Kiwanda Drive
Pacific City, Oregon 97135
503-965-7007
Rogue Ales
2320 OSU Drive
Newport, Oregon 97365
541-867-3660
Wakonda Brewing Company
1725 Kingwood Street #4
Florence, Oregon 97439
541-991-0694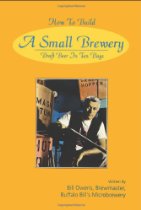 The brewing techniques described in this book are the same as Bill Owens used at his brewery. Bill's six barrel brewhouse uses the same tower (gravity) brewing method as described in this book. A ten gallon brewing system can be built in a couple of weekends. Bill Owens shows you: How to build a mash tun from a camping cooler. How to convert a beer keg into a kettle. How to construct a heat exchanger from a garden hose. How to control fermentation. This book explains how, on your first brew, you can produce wonderful, cold, clear and carbonated beers in just 10 days.
---
Copyright | Privacy Policy | Disclaimer | Contact