Battle Rock City Park
---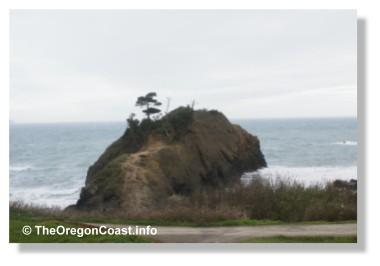 Battle Rock City Park has been dedicated in memory of the ancient people (Dene Tsut Dah) and the pioneer founders of Port Orford, Oregon.
In 1850, the U.S. Congress passed the Oregon donation Land Act. This act allowd white settlers to file claims on Indian land in western Oregon although no indian nation had signed a single treaty.
Capt. William Tichenor of the steamship Sea Gull landed nine men on June 9, 1851, for the purpose of establishing a white settlement.
This resulted in deadly conflick between the two cultures. For two weeks, the nine were besieged on the island now called Battle Rock. Under cover of darkness, the party escaped north to Umpqua City.
In July, Capt. Tichenor again arrived with a well-armed party of seventy men and established the settlement now called Port Orford. Later, Tichenor became a permanent resident after his retirement from the sea.
---
Copyright | Privacy Policy | Disclaimer | Contact