Florence, Oregon
---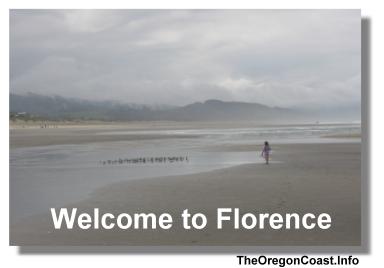 Welcome to Florence on the beautiful Coast of Oregon. We hope you will enjoy your visit.
Florence Distances
Go here to find the distance from Florence to another city on the Oregon Coast.
Florence Directions
Get directions to Florence from anywhere in the United States.
Florence Map
Here is an interactive map of Florence, Oregon.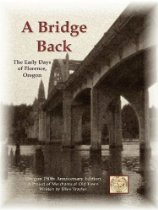 A Bridge Back, The Early Days of Florence, Oregon is an entertaining romp into the early history of a rollicking town, at once "wild west" and "gentle natured." It was a small town with a big heart and many colorful characters. They followed in the footsteps of greatness, on the trail of Lewis and Clark, Jedediah Smith and in the shadow of railroad barons and spruce-winged airplanes. Meet the adventuresome dreamer-founder and his bandito-turned-poet brother; meet the bold editor of the town paper, who went on to be a senator; meet the brave settler who saved a wagon master from mob attack; meet the lovely Rhododendron Queen who married the founder's nephew; meet the fishermen who blew up bombs in the river and the young man who sauntered nude down the beach; meet the greedy publisher who sided with grasping barons to his own downfall; and meet the bumbling Romeo who snapped a photo of his girl as she sank in quicksand. If you know Florence, you will never see her the same way again. If you do not know Florence, prepare to fall in love.
---
Copyright | Privacy Policy | Disclaimer | Contact